Featured Product & Brand – Deskmate
We uncovered a new interiors product brand, we think we are in love, meet our new friend Deskmate. In a nutshell they make sustainable products that are designed to help you work better. Our team have been busy creating 3D models of their clever worktop desk stands and their desks that fold away. We love when design, workmanship, aesthetics and mission-led raison d'etre come together, its an elusive combination for sure. We know because we are on the lookout each day. While we love the simplicity of the products more than anything we are a just total suckers for a heartbeat that we can resonate with. As a brand this is what they are striving for, and this kind of focus is what totally floats our boat: "Our mission from day one was simple, enable healthier working environments whilst helping you become more productive. With so many distractions that keep us from doing real work, our store provides a place where you can access the best products to help you and your team, work more effectively."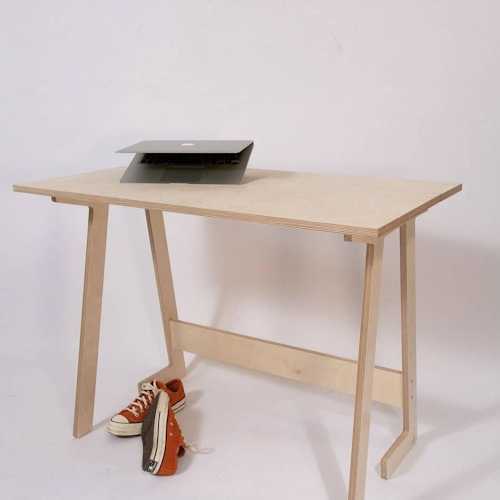 A product that helps you work more effectively, sign me right up NOW. In all honesty the mission statement actually struck me like a shame dagger through the heart. Anyone else MAJORLY struggle with the dirty D word, distractions. It is so hard to focus on the task in hand, mainly because when we are home there are often (or it can feel like there are) 10 million tasks at hand at any one time. My mind at any 10 second slot these days can sound like this:
Must check out of my Sainsbury's online order
Wonder is that salmon still in date for dinner tonight?
Must try those high protein yoghurts so and so recommended
Better not forget football kits out for tomorrow now that I think of it
Which reminds me the tumble dryer is still beeping, better go check that
Oh here I'm sure I need to add laundry detergent to the shopping list
MUST check out of the grocery order
Oh no the slot has expired
The only other time they can deliver is school pick up time how annoying, must re-think, wonder do Tesco have any availability?
Still the tumble dryer is beeping
Oh wait I need to meet that deadline for my first draft of the proposal by 1pm
Just me?! Ok truly sorry if that bored you but was actually a little therapeutic to break that down. No wonder we get a little frazzled, it really is close to an impossible task we make for ourselves sometimes and the miracle working phone in hand that's meant to help with the productivity problem is actually just a plethora of distractions at your fingertips. Again maybe just me, but man alive those weekly screen time stats can make your eyes water, at least I use my phone a lot for work, or that's what I tell myself anyway.
If the last year has taught us anything I think it is that you need to give yourself a chance, its not actually rocket science. To set yourself up to be winning when it comes to working from home the space does need to be a quiet one, it does need to be comfortable and yes Deskmate we are ready to commit if you can promise me those internal distraction demons will be quelled and you magically deliver the ability for me to work more effectively. No pressure, but we are expecting big things.
SIDENOTE: I am being a little facetious to prove a point here. Genuinely check out Deskmate as a brand, we think you will be as impressed as we are. You can even check out if their products fit in your space and you like how they look by playing about on our app. They make standing desks to help with back pain and muscle problems, laptop risers for better screen positioning and lots of other clever aids to help you get more out of your day.
To find the Deskman products on the app, go to "Explore", look in the "Products" section and then sort by category and they should be the most recent made models under "Tables". If you favourite them you will be then able to add them into your designs. Easy as that.