Are you a fan of Boucle?
You hear the term Bouclé? What do you think? Me, I see Jackie O in her Chanel fitted, textured tweed jacket, looking (in Craig Revel Horwood style mimicking rhetoric) fab-u-lous. Many have tried to recreate the look since but it is hers to own originally, she nailed it and etched the sophistication of the fabric in our minds forever. So yes for me Bouclé is synonymous with Jackie O levels of sophistication, and stand out chic. In interior design then you can see then why bouclé is a mark of luxury when used in furniture upholstery.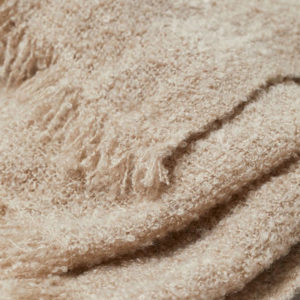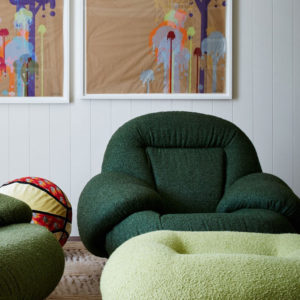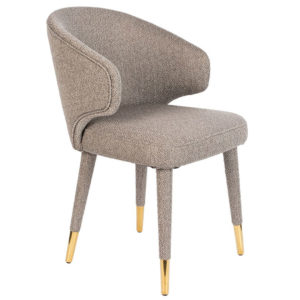 This past while I have loved seeing so many naturally textured fabrics, from heavy wools, to shearling, fluffy mohair to today's blog star of the show bouclé in magazines and social media feeds. Often these types of high octane texture are pulled out for show only in the winter or for festive novelty on the high street when our hygge appetites are high but after plenty of time indoors this past while, and a self confessed desire for comfort and reassurance in our surroundings it looks like these fabrics may be set to become commonplace staples and part of the fabric of our room set-ups, quite literally. It stands without too much explanation that we live in a time when comfort and that feeling of cacooning safety are paramount to us. It is arguably part of that essential well-being, need for self care, mental health priority that you don't have to go far before you are reminded is vitally important to us all.
What is lovely about bouclé of course is that it is a natural material. We have chatted about before here at SIgnaturize about our love of bringing the outdoors into our homes, in small and big ways, and natural fabrics and fibres are such a great way to do this. Its subtle, its tactile and its visually incredibly impactful to contrast textures within your home. When you stick to a narrow colour palette, that contrast of textures it what sets your space apart and avoids the space looking flat and "samey" and two dimensional.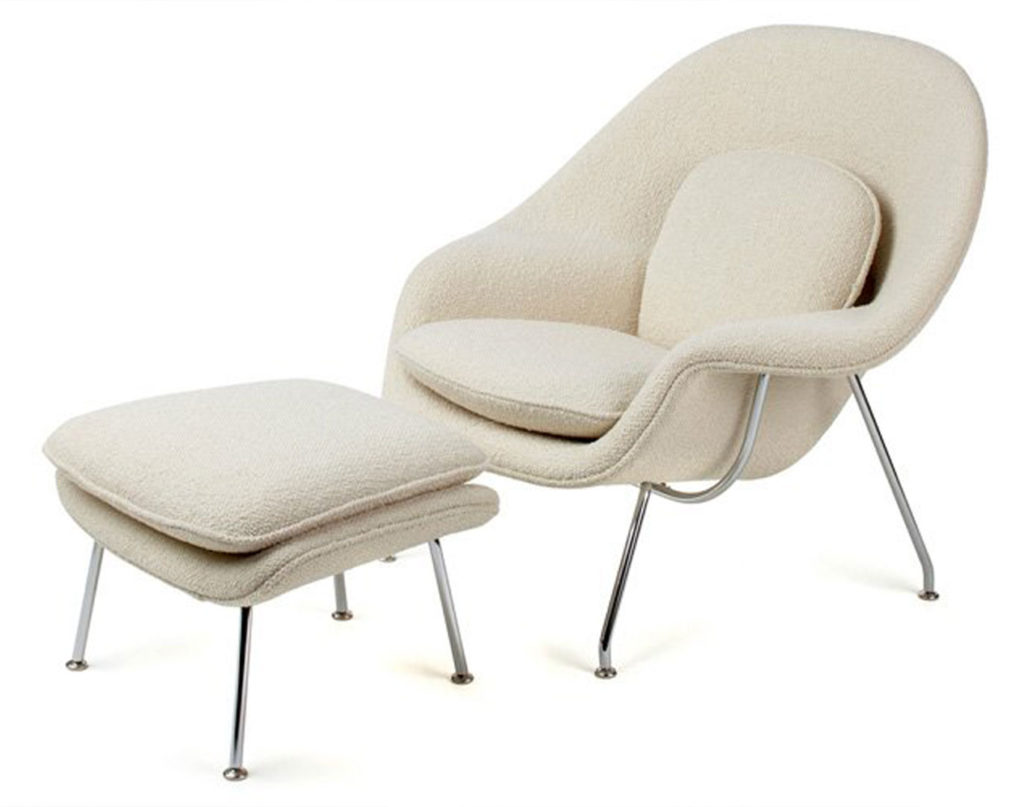 So what actually is bouclé? What does it mean? It is time for the outcome of my bouclé fact-finding mission, my favourite geeky bit of the proceedings. Bouclé is a French term used for how the wool (sometimes finer fabrics like silk) is manipulated by being looped and curled, it literally means "looped". It became a hit in the interior design world in the 1940s; the story goes that Florence Knoll (as in Parker Knoll) requested that Eero Saarinen designed a chair that "is like a basket full of cushions to curl up and read a book in". She got what she asked for and the Saarinen's Womb Chair in Knoll's Classic Bouclé was born as was the world's interest in a truly unique look for the home.
For me the standouts pieces upholstered in bouclé are those striking curved, voluptuous armchairs you see a lot of at the moment. I think they speak of femininity and softness just beautifully. It is no coincidence that you see bouclé used in rounded furniture a lot because I found out in my research that the way the fabric is made means it has a malleability that lends itself so well to curved and rounded furniture edges. It makes sense that the springiness of the wool and the slight "imperfections" of the looped bumps of the bouclé would hug the curves of the furniture much like the classy femininity of that infamous Chanel Skirt Suit. There is a richness and enveloping nature to this whole look and the properties of the material really work hard to serve their purpose.
So why do so many go mad for bouclé? Why is it so popular? For me, the "chic-ness" (if you will allow me to fudge that as a word) comes from how French bouclé can look. No one more sophisticated that the French when it comes to fashion, interiors, curating a "look". A classic piece of pale cream or white bouclé sofa is go to look in modern Parisian interiors. To not sound contrary on this it also has the ability to bring the simplicity of the coveted scandi look into our homes with ease, in the very same breath.
When incorporating bouclé into a sacred space in your home I love that as a material it has a Mid-century vibe, so it can counter looking too cutesy or girly girly by bringing in a bit more of a edgy and positively retro feel. For me it's the material of contrasts, it achieves a precarious balance of being enduring and substantial in its heaviness yet soft and delicate, it seems durable and reliable yet totally luxurious and indulgent, it seamlessly blends in but is striking and stands out too no wonder it really is having a moment in the interiors world. It has a cacooning quality. In short it is especially adept at covering organic shaped pieces, it has a lot of give to allow for the curves. I think it is this organic quality that speaks to us and means it adds to how we relax in a room. There is no doubt it adds warmth and character to a space.
To continue on with the theme of material properties it has great acoustic absorption. I haven't yet experimented with much bouclé in my home but I intend to as with plenty of tiling and a focus on glazing throughout we are in need of more of this softening from a sound perspective, and general enjoyment of a space. It is also great for small design details, even from my high level scouring of images and articles the cookies have already led me down a path of bouclé decorative knots avenue with me distractedly comparing sizes and colourways from Etsy sellers. Don't tell the boss.
Joking aside I am inspired to experiment more as it can be costly, I am not going straight out to reupholster my beloved wedding present curved sofa in boucle any time soon. It can be a costly design choice, so to start there are much more achievable ways to include this all-rounder textile look in your home. You won't need to go far on the high street or scouring online to find bouclé cushions and textured throws, on a really palatable range of budgets. One suggestion I did see as a suggestion from an online retailer of how to include Boucle into your home was bedsheets, I have to say I draw the line here. I am naturally warm blooded and the thought makes me clammy and uncomfortable as I type. Saying that all that I read says how the natural materials used are breathable but, I am happy to some day stand corrected, give me Egyptian cotton in whatever thread count you've got for a cool, crisp sleep of legends. Like I say happy to be corrected if you've contrary advice for me.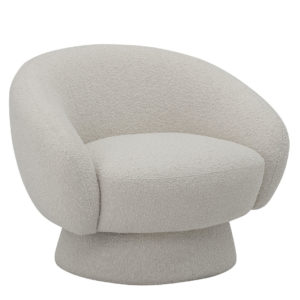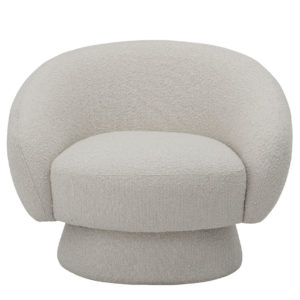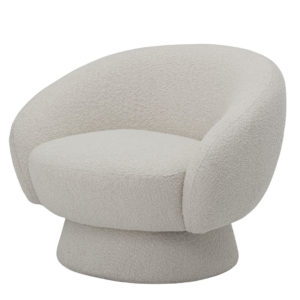 As well as the rounded chair soaring in popularity it always does seem to be in a neutral tone. I assume this is because the fabric is standout enough? The richness of a sumptuous cream boucle armchair, like this one we have chosen to showcase this week from Made in Design, means the fabric speaks for itself. While you don't see it just as much but when you see bouclé furniture dyed in a daring, vibrant pop of colour it really works. For me I really like bouclé in dark colours, charcoal greys, dark navy or olive green. Sultry tones give bouclé an even more modern and subtle feel in my humble opinion. Whether it's the adorable (but sometimes feral) small children I am blessed with I am not there yet in my balls-y-ness to embrace pale bouclé in a big way in my home. The decorative knot may survive if placed on high shelving, may is the operative word, we have an adorable yet suspiciously covert 2 year old dictator in our house who loves "sorting", organising, hiding and categorising any small or important objects so the placement of everything has become strategic. She has a twin who is the perfect decoy, you think you can hear them both playing peacefully and safely while you are finishing cooking dinner (side note: playroom adjoining to kitchen was my first non-negotiable in the self build architect re-jig meeting). One pops ones head in to confirm the cheery, wholesome play only to be aghast that the dubious one is gone. Never too far but her reach in a short space of time is incredible. She smiles with glee when you find her rearranging the 6 year old's hard fought homework or redistributing my favourite dried flower arrangement to different corners of the house. In short, as my no nonsense Mum used to quote at me after I had demolished her make-up collection or make nonchalant dents and scores in the side of her new shoes; nothing is sacred.
So to close off because we are big proponents of originality here, of keeping things fresh, personal and fully on trend to the one person that actually matters most, you, so how might you style up bouclé in your own home? We think it contrasts brilliantly with no-nonsense unashamed wooden furniture like straight edged tables this would help to neutralise it becoming overly glam if that isn't your thing. Dark sultry walls colours can also be the perfect backdrop and stop the look from becoming too safe. Want to go even more daring on the contrasts think about clean lines of quartz, marble or concrete style furniture and see what happens with paired with boucle. Or final inspirations for you, how about some vintage style leather vibes to contrast the soft fluffiness of your bouclé? Play about with what works for you, you will see from the images included of the model above how clear the textures of the 3D renders are and that gives you a real sense of how the fabric would work in your space. Go and have some fun and see if this look is for you. See what your space can be.