Challenge Winner!
Beige is Out!
The Challenge
In this bathroom design challenge the designers had to keep the bathroom units, sink, shower, toilet & bath but were asked to restyle the space by;
Creating a jaw dropping tile, floor & light combi;
Finding the perfect wall & blinds colours;
Adding some beautiful finishing touches.
Before and After
The winning design, created on the bathroom design app, as voted for by our Instagram followers, created a gorgeous bathroom using a range of tiles with different textures. The design shows how simple it is to create an inspiring bathroom with just a few changes.
The use of texture in the wall tiling within this bathroom defines each of the key spaces within the room. The shower area is defined by the white metro tiles.  These smooth regular tiles are then contrasted by the uneven ripple effect tiles within  the wash hand basin space. The use of the pastel green paint in the other areas then defines the rest of room where the free standing baths and toilet reside.  The blinds chosen reflect the simplistic style chosen with the use of the wall paint.
The floor tile then provides an impact across the room with its distinctive blue and brown pattern.  We love the designers decision to have two mirrors over the dual sinks. 
This is a fantastic virtual 3d room design developed using the Room Creator App which is helping people develop their home decorating skills!
Some products we love from this design.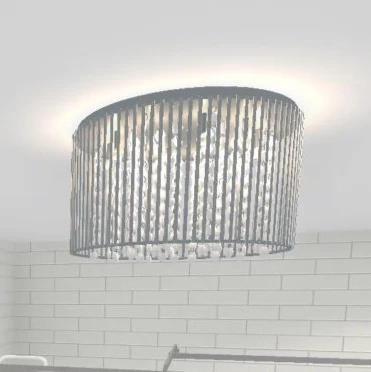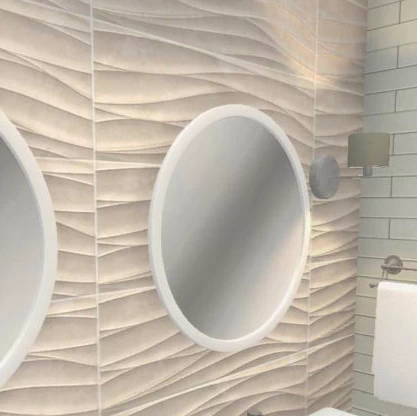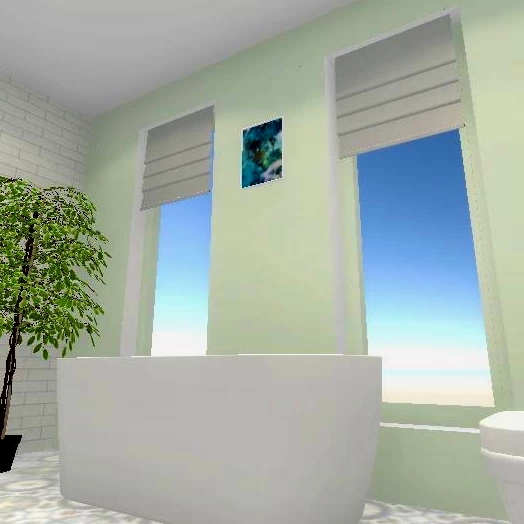 Room Design App
Our fun interior design app allows you to explore room design. Add and change furniture and colour schemes and make the design your own. You can also enter challenges to showcase your design ability and win. Why not try it out today and see where your designs take you?
(This page may contain affiliate links for which we may be paid for if you purchase an item after clicking a link)