Being sensible and choosing longevity when it comes to Kids Interiors; or go mad and indulge in the fad?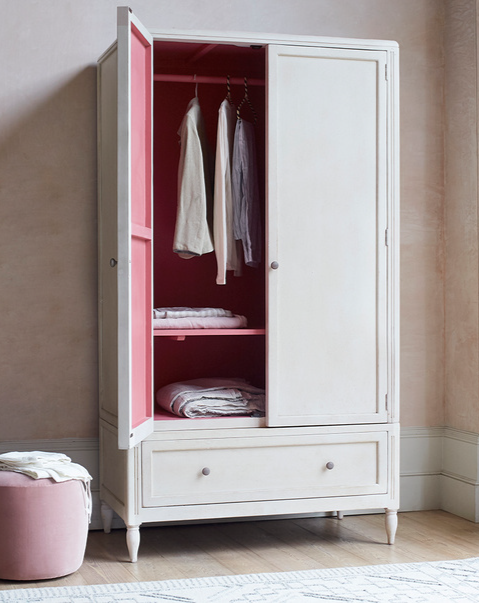 Age old interiors dilemma type question today on the blog; how do you invest in your child's bedroom decor knowing it will stand the test of time? As in, how can you be smart with your style choices on your child's behalf so that they won't outgrow the space you have created for or with them…
I don't have all the answers and actually I will admit I am struggling to start with all 3 of my kids' bedrooms (I have 4 little ones but the twin girls share a room). I am really thinking through what will be the investment pieces of furniture and what will be the bits that are easier to change up over the coming years to keep in with their whims and fads. I have a couple of furniture choices in mind that I will let you in on and I hope to actually make some decisions and see some progress this autumn, I make it sound simple don't I? We could still be pontificating this time next year I won't lie….
When I saw this from Loaf a few months ago I fell in love with it. It appeals to me on so many levels, the scale, the robust classical shape but its the cheeky wink of my favourite shade of coral pink inside the tips it. The girls were spoilt with gorgeous matching outfits when they were born, it turns out (in Ireland especially) people adore the thought of dressing two little girls the same so 2.5 years later we are still working through some of those beautiful pieces, and i have adoring grannies on both sides who actually take any excuse to buy their little cherubs a new something. Be it Easter, one of their brothers' birthdays, it being the second Thursday in June (I'm jesting but honestly I have a mum and mother in law who express their love through gifts, it is a wonderful problem to have. But yes a good big wardrobe would be a good idea for the girls as currently they are making do with a small mobile rail designed for a few bits of fancy dress and I'm not sure how much longer we have. So as much as I love this (The Grand Pimpernel from Loaf), at £1345 it really is an investment. I haven't asked our graphic designers to make a 3D model of this product yet but I also have an inkling it may be a little big for the specific corner of the girls' room I am thinking of. The Lola Wardrobe from The Oak Furniture Superstore and the Chantilly Double Wardrobe from the Cotswold Co are currently a very strong contender for an investment piece for the girls' bedroom; and coming in at £1079 and £750 respectively they make the eyes sting a little less in terms of price point. Gentlemen if you are reading this from our Creative Hub team this is a spoiler ahead of the next product request list…
Next up on the wish list is a chest of drawers for my eldest son's room, there is no better reason than when the bum of your current hand me down has currently given way and everything is currently in a constant muddle. Again major kudos to our friends at Loaf for coming up with the Popinjay Chest of Drawers. Similarly to the Grand Pimpernel it is the flash of aqua turquoise surprise on the inside of the drawers that appealed to me. So that is a definite contender but at £845 these super alternatives from Cotswold Co (the Wilmslow) and the Oak Furniture Superstore (the Rowland) are much more palatable at £569 and £599. I need to have a play about and look in app as the light, bright neutral colour palette may be more suitable for my son's room. As always scale and fit of the furniture is the first important quandary to solve and playing about with what colour works best is the important close off step.
And to close off my littlest son, my big character, double dosed middle child (!!) is in need of a desk. So he only starts primary 1 so before you think I'm the pushiest mum out it isn't to chain him to do his homework it is because a little summer highlight for him has been relishing his newly found 5 year old dexterity and realising he can start to complete Lego sets like his big bro. This is a big leap (all you mums of boys will appreciate this) but I think we owe it to him to bless him to a little quiet corner to himself to enjoy this new hobby and prevent those (adorable but really annoying) twin toddlers from undoing all his hard work, up high away from their prying hands and out of the way of my kitchen table. I really like this Baumhaus Desk from their Signature Grey Collection available to buy from Choice Furniture Store or the Chalford Corner Desk from the Cotswold Co both of which are trusted suppliers of Signaturize. They range from £522-£634. I love the muted chic finish and colour of the Baumhaus option but the Chalford range from the Cotswold Co comes with lots of different add ons and storage arrangements which may push it over the winner's line when it comes to offering the most longevity. For when lego building does in 10 years turn into studying for his GCSEs.