Far from Arcane: The Exoteric Relationship we have with Wicker in our Homes.
You will have noticed cane is having a moment when it comes to furniture. It has been for a while; I can just be slightly slow on the uptake when it comes to this kind of trend. I will let you into a secret I am always a little reluctant about interior trends if I'm being totally honest. I ignore them at the start as I like to see if they will pass quickly but if I keep seeing things and I keep liking them then I will start to consider whether they are something that truly deserves my attention. I won't lie there is probably a little arrogance on my part at play, that I don't necessarily want to like what everyone else does. What that psychologically says about me I don't want to know. So often by the stage I truly notice a trend they are probably viewed as passé, I'm not too bothered, nothing worse than committing too soon and then regretting it. So what is so great about cane, and rattan for that matter?
Well I like the idea that it is an alternative way to bring those soothing natural wooden tones in your home. On a practical note it is lightweight, hardwearing and relatively less costly alternatives than investing into solid wooden furniture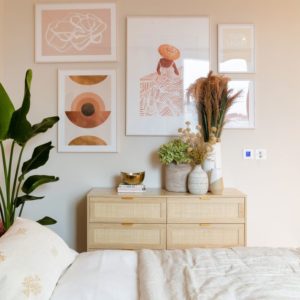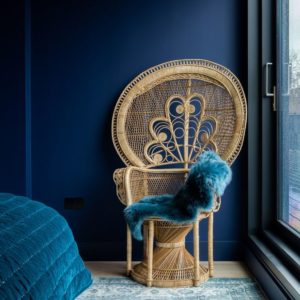 More than anything I love how it is a fun, an easy on the eye way to bring texture into your home. The neutral palette that is endemic to cane and rattan also helps it slip into the background in a very easy-going way. So I will start by saying I have had to mentally unlearn the memories of the slightly nasty wicker furniture with garish fabric coverings that your granny may have had in her conservatory circa 1971. No that is not what we are talking about here, we are talking tasteful, discreet, fine textures, nothing garish and no orangey aged pine tones, no thank you very much.
Even if I am slow to the (rattan) table on this one as a trend it shows no signs of retreating. It is no longer compartmentalised to just outdoor furniture, rattan has earned its rightful place in our hearts and throughout our homes not just our conservatories. From headboards, to lampshades, to the ever-practical baskets, the options are truly endless. For me it is the tactile element of rattan (and cane) that brings texture and intrigue to any room. For me its major appeal lies in its uncomplicated design, and brings a casual breath of fresh air no matter what the style of your home.
So I will admit when I start to look into these kind of topics for the blog I geek out slightly (major understatement) and cast the net pretty (far too) wide. In general I have to admit this character trait both engenders my husband's (mild) admiration but mainly his absolute despair. You know that phrase "Go hard or go home", with all things research or simply being asked an opinion anything I go very wide before I can meander my way slowly home to a committed opinion. I like to be fully informed, I think I've my legal background to blame for that one, but anyone of a similar ilk can perhaps empathise it can be a frustratingly slow path for us wide net casters. I digress, so when I started to look into this topic I was interested to find out that cane and rattan both come from the rattan palm plant, grown in South East Asia. When it is deconstructed, the thin inner reed is removed and used as cane and the outer thick husk is what is known as rattan. Closing off on my geek out do you know what wicker is? Well hands up I didn't, it is the collective term for both, it describes the process of how cane and rattan are made.
This got me thinking if both parts of the plant are used, this must mean reduced amounts of waste, which in and of itself flicks our switch as it indicates it is fairly environmentally friendly when it comes to the production side of things. The more I researched on this I found that indeed wicker is a very sustainable material given the plants fast growing nature. In terms of material properties it is extremely malleable which is how the curvaceous silhouettes can be achieved so magnificently.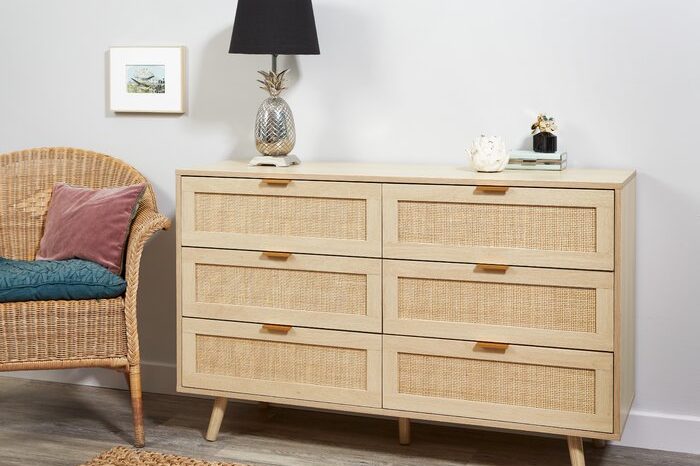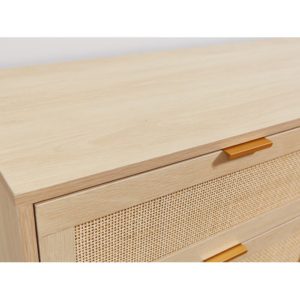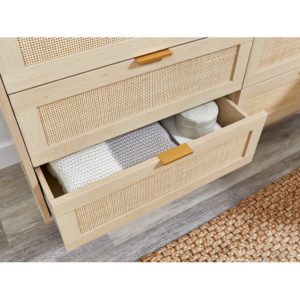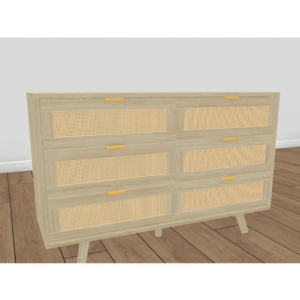 I really love seeing cane used as room dividers whether in a bedroom to give the illusion of a dressing area or in a sitting room to turn one large room into multiple secluded ones for various functions. We were interested to find out in our research that if used in a bathroom to cordon off wet areas, given its natural qualities cane copes brilliantly in steamy environments. What is so aesthetically appealing generally is the romantic bohemian and exotic quality cane screens can bring.
I think my favourite use of wicker generally is probably the kick ass cane lighting options from high street to high-end designer available at the moment. Whether it's a delicate cane pendant or cylindrical table lamps, from pretty scalloped edges to contemporary sleek designs. Rattan is such a versatile material it can take on various shapes and create intricate shadows for the light to pass through. I think lighting, for me, is a discerning way to bring this nature-loving look into your home. We love these Forestier rattan lighting range available to buy from Made in Design, which we have designed 3D models of in our Signaturize App.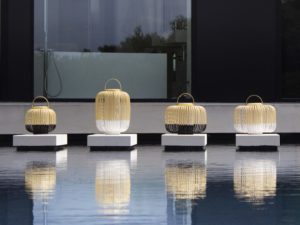 Stemming from my fear of growing tired of a "look" I think personally I would be reluctant to invest in a major piece of furniture in rattan, although there are some stunning headboard and sideboard options out there there is no doubt. In terms of a great value for money piece this Chest of Drawers made by Fernleaf available to buy at Wayfair ticks all the boxes. It would add a great piece to storage to any room and is so inoffensive in its look. I don't say that to berate this dear piece by any means, when talking about a person inoffensive can signal weakness, here I genuinely mean this doesn't offend the eye a definite tick box for furniture shopping. It is clean lines simplicity mixed with soft, calming textures and tasteful drawer pulls. We loved this Fernleaf piece so much we have 3D models made up to represent this piece so that you can see whether it works in your dream space too, you can thank us later. This piece in question is particularly super value coming in at only £277, however I have spied Cane pieces recently, I assume because of the workmanship involved, that would make the eyes water slightly. Being the hub of amazingly creative, resourceful people that it is I have loved finding instagrammers who have taken to upcycles and ikea hacks of otherwise ordinary pieces of modern furniture to add cane webbing panels, totally full of ingenuity and the kind of thing I could loose hours watching videos and critiquing. We especially love these efforts below from The House That Black Built (shared with permission) we love that you can't get more personal, unique and individual than making it yourself.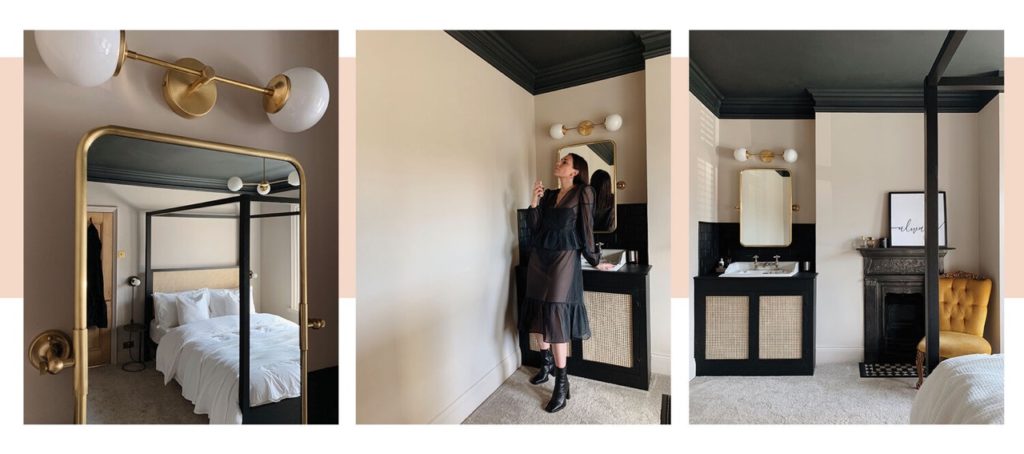 So to wrap up this rattan love fest let me leave you with one of my favourite visual cane and rattan inspirations recently from Elle Decoration. Handelsmann & Khaw Interior Design Studio in Watsons Bay, Sydney, home designed this exquisite mid century beach-front home, the wicker details throughout bring such a distinctive feminine and eclectic quality. I love how cane and rattan are used in different ways throughout the home, from the cane webbing in the kitchen to the curved rattan chair in the living rooms. Subtle, authentic and really fun, we don't think cane or rattan are going anywhere as a design staple in our homes. As always love it or loathe it please let us know your thoughts, we love to hear them.