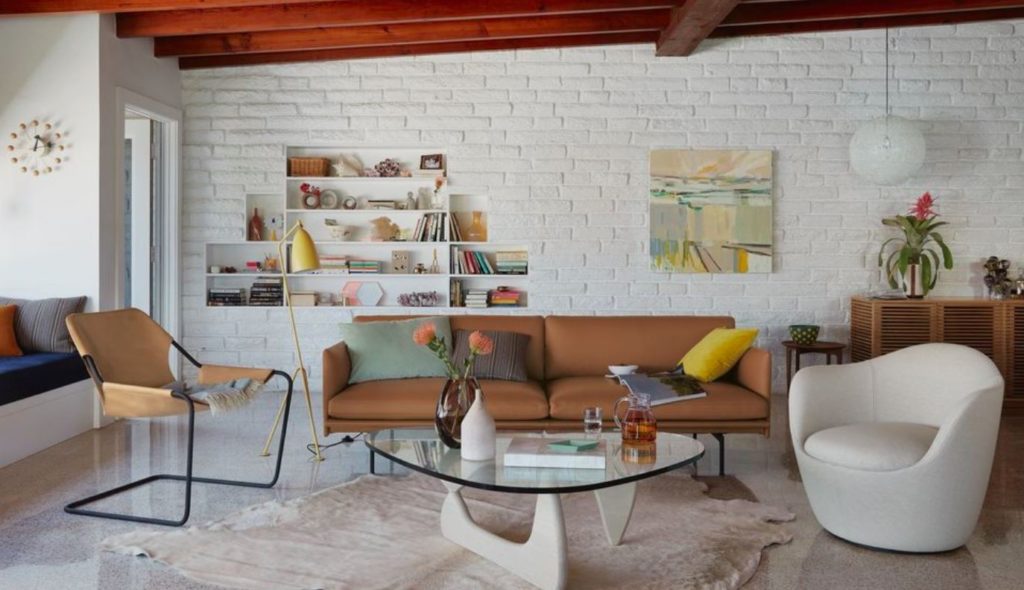 Is Mid Century Style your thing?
Take a moment, you hear the term mid-century style what do you think?
In my mind's eye I see Don Draper pouring an Old-Fashioned Whiskey cocktail, I shoot immediately to some kind of shiny drinks trolley, a haze of indoor smoke as the cigarette rests happily in an ash tray and there is definitely a hearty Barcelona chair with a gorgeously curvaceous lady friend in some kind of tweed pencil skirt suit type ensemble.
I wasn't even a big Mad Men fan when the world went wild for it, but I did love a sneaky peak at the style, the class, the giving zero you know what type sensuality of it all. That idea you can chain smoke indoors, there are copious amounts of hard liquor poured at whatever time of the day it is required, the whole set up is just deliciously hedonistic. Let's be honest, the allure is that it is the total antithesis to our water drinking daily goals, needing your Apple Watch to remind you to breathe, Keto/Vegan/Gluten-free, straight-laced millennial life.
While I've painted a picture of carefree excess, that was just a little fun to set the visual scene, conversely the rationale behind the interior style of the mid-century era is that of paired back minimalism. The idea being that all the smallest details of functionality were so important, because you see all the detail, it is not hidden, and the thought is that if it is made well the item will last forever. Of course we at Signaturize LOVE that. You have heard us harp on about investment pieces for your home, about buying once and buying well so yes no surprises we are lovers of mid century style.
We have spoken about before check out our blog post on this earlier this year that throwaway culture of furniture is (fingers crossed) changing, and certainly we hope that the world is wakening up to the impact that the brands we buy can have. Hopefully this leads to folks being keen to buy timeless items that they won't tire of. So let's dig a little deeper why is mid-century style just so popular, and set to stay as a staple in our interiors wish lists. In short it seems many of us love the understated, unobtrusive vibes, it is arguably a timeless look and fits really well within our modern homes.
Interestingly when we were researching Mid Century furniture we learned that the Eames chair was one of the only iconic furniture items that never went out of production since it was first produced in 1956. If you look at the detail on an Eames chair is exquisite, with the beautifully carved wooden casing the comfy leather sumptuous seating. It was ahead of its time ergonomics wise and its totally timeless style is what sets it apart.
So can you indulge me in a little personal critique?
I will admit I have a little bit of a love hate relationship with mid century style. There are elements that I love and bits that do jar with my natural style preferences. Confession, I actually love unnecessary detail (print, textures, curves, yada yada…) so for me the restraint of the mid century style has the potential to feel a little too claustrophobic, a little too perfect, just that bit too neat. It is actually quite funny as me, and Mr Signaturize, lovingly (as we both probably want to throttle each other) describe that we are each other's ying and yang. That restraint, those clean lines are his ultimate interiors happy place. He is an engineer by background so it does make sense. I am quite content and feel at home with a little ruffled up chaos in my midst, it adds to the drama of my life if you will. I can totally appreciate the craftsmanship of exquisite mid century style; I understand the theory that the clean lines act as a resting point for the eyes in a busy room. I get that it is a concept perfect for lovers of minimalism, that the quiet beauty of the furniture style means that each piece will hold its own in a room. It can just feel a little masculine and exact for this wannabe hippy at heart.
Rightly or wrongly I see the clean lines and my automatic reaction is that I like furniture to be more comfortable, more squidgy and more of the squish into kind. To me the streamlined aesthetics of the mid century sofas and chairs with cushions give the perception of rigidity and discomfort. While I'm there I can find the prominence of Teak overwhelming and a little oppressive. Saying that this is where the yang to my ying really does deserve the credit where it is due. He is also the king of the investment piece mentality (buys things and then never throws them out, literally one new pair of jeans each year until then fall apart). He certainly buys once and buys well, it's a quality I totally admire and have learnt a lot from as I have veered to more is more and wanting it yesterday in the past but am slowly unlearning this mind set.
Never known to be one to rest in any negativity, what do I like, as I have indicated already I really respect the workmanship involved. The Eames chair that my husband invested in for his study is probably the comfiest, calmest space in our house to read and meditate. It is totally designed for this purpose and hits the mark spot on. I do appreciate the simple silhouettes and the tapered legs in mid century design generally and these are the elements I like to replicate and appreciate in my design, I'm just not an all-in mid century lover. After all, it is totally personal, we cited this point precisely in our design tips this week. You shouldn't have to talk yourself into an interiors purchase, often you will have a gut reaction and that is good, roll with it. I have had to compromise slightly and I am glad that my eyes have been opened to parts of the mid century style that I too quickly may have overlooked previously.
We look hearing from you. Is mid century interiors style your thing?