People Love Using Our Room Design App!
Design for fun, to enter a design challenge, or to refresh you interior design.

Great fun way to design
I love the way you can add new furniture to a room and play with colours. A fun app that allows you to redecorate in 3D. Easy to use and completely free.

Addictive app perfect for interiors lovers
I've started to use the app few weeks ago, it's easy to use. They have challenges every week where you've got to test your designing skills, I was lucky enough to win £750 worth of prizes! I definitely recommend using the app!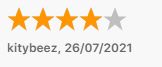 Great but...
This app is a very good app and easy to use. It has no ads or limited items but it only does bedrooms, dining rooms and lounges and possibly a study. I would love it if there was kitchens and bathrooms, pantries and utilities such as washing machines and dryers. Over all I love it and it is a great app for interior designing
I'm not worrying about painting a wall and thinking am I going to have to change it because I've been able to visualize it.
You always have things that you're not sure about, like wall colour, being able to change that in the moment made it a fun and creative experience.
To be able to touch your room, to move objects about and to change colours in real-time really helped.
De-stress, learn decor & create incredible rooms!
Want to make your house into a home in immersive 3D, or design for fun as you conquer interior challenges?
With over 7,750 free décor products, the Signaturize 3D room designer enables you to have fun as you design rooms without restraint. Simply, favourite 3D products you love from our market leading décor playground of models & materials. Bring your mood board to life as you instantly visualize décor options & furniture in immersive 3D.
Design your home by capturing your unique space with an iPhone camera & be amazed as your virtual room instantly generates. Use Floor Planner to refine measurements at any time. Navigate around accurate space before you plan layouts, place furniture & create unique styles. Finish your interior like a Pro by playing with colour, lighting & accessory combinations.
Design for fun & unlock your creative potential by entering interior design challenges because décor matters. These punchy challenges provide a superb opportunity for interior creatives & home design game enthusiasts to play with new on-trend products, while learning more about the latest décor themes.
Signaturize values every member of our Community & our mission is to deliver the most incredible 3D room designer experience in the world. We're just at the beginning of this journey so we would love to hear your feedback & requests for new deco products, or design theme functionality as we strive to be better!
Features
Visualize & design with over 7,750 iconic products in 2D & 3D from our free 3D Décor Library.
Bring favourites & pins to life by placing the products in 3D from your mood board.
Find living room ideas, bedroom ideas & dining room ideas by exploring our 3D Design Library, filtering by style, first home, forever home & featured product budgets.
Capture your room with an iPhone camera & instantly create an accurate 3D project virtual space, or enter an existing interior design & make it your own.
Conquer interior decor challenges by placing products & find incredible style, size & colour combinations.
Easily design in overhead view just like you would with a room sketcher tool.
Make your house design into a home design by involving others.
Share designs with your friends, partner, family & flatmates.
Easily sketch up room layouts & floor plans in 2D to understand product fit & choose to instantly view in high resolution immersive 3D.
Manage your mood board & your budget from 3D.
Buy equivalent real-world products from trusted affiliate retailers.
Share
Whether you are using this as a home-design game or working on your dream home share home interior designs with family & friends even your house builder to get their ideas on home decoration, house design, colour or designer choices. Get their insights on your 5d plan for your family house..
Floor Planner
Create rooms in your dream house using our room measurement feature to 3d Scan rooms within your home or if you are thinking of a home renovation then use our floor planner function to create the perfect room by entering measurements! Within the floor plan feature you can add bay windows, fireplaces change add & move doors & Windows & make a new room layout.
Room Capture
This room scan feature enables you to capture measurements of a room using the phones camera & then instantly create a floor plan of the room within the App & add products. This fully integrated room scanner & floor planner feature creates a room that enables designers to measure their home using the lidar camera on their device (newer devices) & create a vr version they can decorate in detail.
Room Painter
The App enables designers to select walls individually & visualise how paints will look within their room. This house paint feature is a paint visualizer that enables designers to select each wall within a room & then visit retailers to buy paint.
Get in Touch!
If you have any questions, or have ideas for ways we can improve our room design app please get in touch.